Others
Alternatives

Arke Promotions Music
Music Downloads Site
Website Promotion
Information
Music Books


Enter Into Our World Organization
Enter Into Our World

Arke Promotions are happy to be sponsors of both The Church Under The Big Top and the Enter Into Our World Network.

Enter Into Our World is an amazing place to meet people that want to change the community and the world to enjoy the life we have.

Enter Into Our World a place of Music Memories and entertainment, with all of us sharing the same dreams and visions.

Enter Into Our World is not about fame and fortune, it is not what we can achieve on our own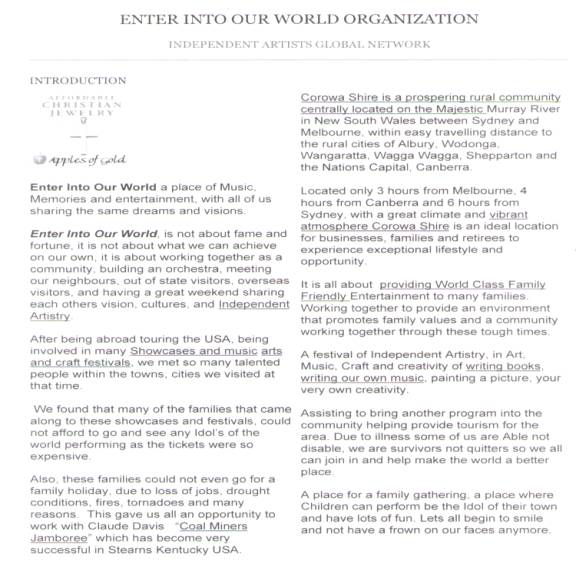 Now we are based in Corowa NSW Australia and anticipate building a future with the community here and surrounding towns and cities.


Daily Bible Reading
Search Engine Submission - AddMe
Web Directories

Free Search Engine Submission

The MasterMOZ Directory
Search Engine Rankings
- Instant, online reports of web site rankings in 8 top search engines and web directories, including Google, Yahoo! Search, Bing (MSN), AOL, AltaVista, AllTheWeb, Yahoo! Directory, and Open Directory (Dmoz).
Arke Promotions